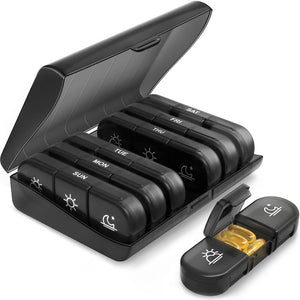 Pill Storage Box Organizer
Sale price Price £14.99 Regular price £28.99 Unit price / per
Tax included.
Shipping
calculated at checkout.
Introducing our Pill Organizer with 21 Boxes, a portable plastic storage box designed to help you easily manage your daily medications. With its sleek black design, this pill organizer is both stylish and functional, making it the perfect accessory for anyone looking to stay on top of their medication regimen.
The 21 box pill organizer is a daily drug manager that provides plenty of space for storing and organizing your medication. With three separate compartments for morning, noon, and evening pills, you can easily track and maintain your medication plan for the week ahead. The largest black shell can accommodate 7 independent pill box organizers, making it easy to plan your pills for an entire week.
One of the unique features of this pill organizer is its door-separated tablets. The tablet dispenser comes with 7 mobile organizers that can be taken out separately for use when you are on the go. Each section has a the name of the day  printed as well icons for morning, noon, and evening sections. This allows you to easily pack your medication and take it with you when you leave the house.
The pill organizer is made of durable and high-quality plastic, ensuring that it will last for a long time. The compact size of the organizer makes it easy to store in your bag, purse, or even your pocket. The organizer also has a snap-lock lid that ensures that your medication stays secure and protected.
Whether you are managing multiple medications or just need a simple way to keep track of your daily pills, our Pill Organizer with 21 Boxes is the perfect solution. Its sleek design, ample space, and convenient features make it a popular choice for anyone looking for a reliable and easy-to-use medication management system. So, take control of your medication regimen with our Pill Organizer with 21 Boxes today!