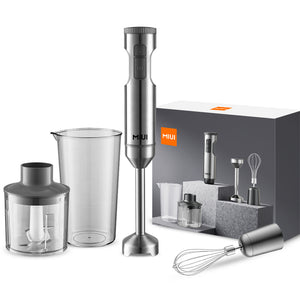 MIUI Hand Immersion 4 in 1 Blender
Sale price Price £50.00 Regular price £99.00 Unit price / per
Tax included.
Shipping
calculated at checkout.
Introducing our Hand Immersion Blender 1000W Powerful 4-in-1, the perfect kitchen gadget for all your blending and mixing needs. Whether you're whipping up a smoothie, making a soup or sauce, or chopping vegetables, this powerful blender can handle it all with ease.
With a powerful 1000W motor, this immersion blender is capable of quickly and efficiently blending even the toughest ingredients. The stainless steel stick food mixer is designed for easy one-handed operation, providing comfort and stability while you blend. The ergonomic handle ensures a comfortable grip and prevents hand fatigue, allowing you to blend for longer periods of time without discomfort.
This hand blender comes with four different attachments to handle all your kitchen tasks. The stainless steel blade is perfect for blending and mixing, while the whisk attachment is great for whipping cream or eggs. The 700ml mixing beaker is perfect for blending smoothies or soups, while the 500ml processor is great for chopping vegetables or making salsa.
The high-quality stainless steel blade is easier to use and clean than regular blades, ensuring a longer lifespan for your blender. The blade is also removable for easy cleaning, so you can quickly and easily clean up after use.
This immersion blender is designed with safety in mind, with a built-in safety lock that prevents the blender from turning on unless the attachments are securely in place. The EU plug ensures that the blender can be used in a variety of locations without the need for an adapter.
In conclusion, the Hand Immersion Blender 1000W Powerful 4-in-1 is a versatile and powerful kitchen gadget that will make your cooking and baking tasks easier and more efficient. With its ergonomic design, high-quality stainless steel blade, and multiple attachments, this immersion blender is a must-have for any home cook or professional chef.