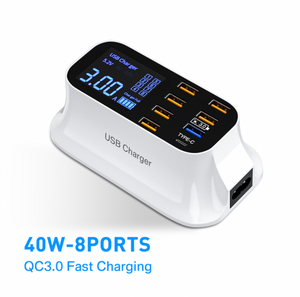 LED Display USB Charger 8/4 Port
Sale price Price £34.99 Regular price £49.99 Unit price / per
Tax included.
Shipping
calculated at checkout.
Introducing the 8/4-Port LED Display USB Charger Quick Charge PD USBC Charger, the ultimate charging solution for all your devices. This charger is designed to provide fast and efficient charging for your iPhone 13, 12 Pro, Tablet, Xiaomi, Huawei, and Samsung devices.
With 6 USB Type-C ports and a maximum output power of 40W, this charger can charge multiple devices simultaneously, making it ideal for use at home, in the office, or while traveling. The LED display provides real-time information on the charging status of each port, so you can easily monitor the progress of your devices.
The charger comes in three plug standards for UK, US, and EU, so you can use it anywhere in the world. The compact and lightweight design makes it easy to carry with you wherever you go, while the durable construction ensures long-lasting use.
The quick charge feature ensures that your devices are charged up to 4 times faster than conventional charging methods. This means that you can spend less time waiting for your devices to charge and more time using them.
Whether you are looking for a reliable charging solution for your home or office, or need a portable charger for your travels, the 8/4-Port LED Display USB Charger Quick Charge PD USBC Charger is the perfect choice. With its advanced features and high-quality construction, you can be sure that your devices will always be charged and ready to go.