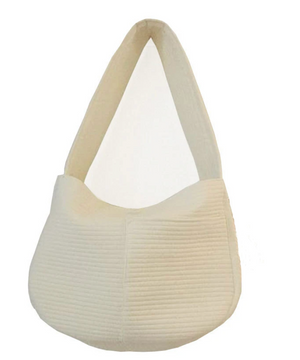 Cat or Dog Travel Shoulder Pet Sling Handbag
Sale price Price £24.99 Regular price £49.99 Unit price / per
Tax included.
Shipping
calculated at checkout.
Introducing the Cat or Dog Travel Shoulder Pet Sling Handbag, the perfect accessory for pet owners on the go! Whether you have a furry feline or a loyal canine companion, this handmade pet bag is designed to provide comfort, convenience, and style during your outdoor adventures.
Constructed with durable canvas material, this pet sling handbag ensures longevity and reliable performance. The breathable fabric allows for proper ventilation, keeping your pet cool and comfortable even during warm weather outings. The bag features a single shoulder strap, providing an easy and secure way to carry your pet while keeping your hands free.
The Cat or Dog Travel Shoulder Pet Sling Handbag is available in a stylish white cream color, exuding elegance and sophistication. The neutral tone complements various outfits, making it a versatile accessory for both casual and formal occasions.
To cater to different pet sizes, this handbag is offered in three sizes: small, medium, and large. The small size is ideal for tiny kittens or puppies, while the medium size accommodates small to medium-sized pets. The large size is designed for larger cats or small to medium-sized dogs. Each size is carefully crafted to provide ample space for your pet to move around comfortably.
Not only does this pet sling handbag offer functionality and style, but it also provides a secure and cozy space for your furry friend. The adjustable strap ensures a customized fit, allowing you to find the perfect balance between comfort and security. The bag features a secure closure system, preventing any accidental openings and keeping your pet safe during your travels.
Whether you're taking a stroll in the park, going on a shopping spree, or embarking on a weekend getaway, the Cat or Dog Travel Shoulder Pet Sling Handbag is the ultimate companion for you and your pet. Experience the joy of exploring the world together while keeping your beloved pet close by in this convenient and fashionable pet handbag.
Choose the Cat or Dog Travel Shoulder Pet Sling Handbag today and provide your pet with the ultimate comfort, style, and security during your outdoor adventures.
Color : Off White 
Size:
Small:  Length 37 cm (14.5") Width 11 cm (4.33") Height 23 cm (9.05") Suitable Weight 0-4kg
Medium:  Length 40 cm (15.7") Width 11cm (4.33") Height 26 cm (10.3") Suitable Weight 0-7kg
Large:  Length 43 cm (16.9") Width 11cm (4.33") Height 29 cm (11.4") Suitable Weight 0-9kg