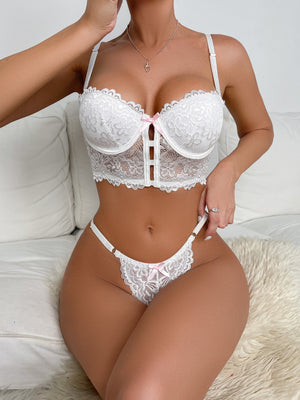 Bridal French Lace Lingerie Sexy Women's Bra and Underwear Set
Sale price Price £24.99 Regular price £44.99 Unit price / per
Tax included.
Shipping
calculated at checkout.
Introducing our exquisite Bridal French Lingerie Set, exclusively designed for the modern and confident woman who appreciates elegance and sensuality. This captivating underwear set from Urbanshak is the perfect blend of sophistication and allure, making it an ideal choice for brides or anyone seeking a simple yet sexy outfit for a romantic occasion.
Crafted with meticulous attention to detail, this lingerie set is made from high-quality polyester blends, ensuring a comfortable and luxurious feel against the skin. The fabric is soft, smooth, and breathable, allowing you to indulge in absolute comfort while looking effortlessly alluring.
The design features a delicate floral pattern that adds a touch of femininity and grace. The intricate embroidery enhances the overall charm of the set, creating a stunning visual appeal. Adorned with elegant lace details, this lingerie set exudes romance and allure, making you feel irresistibly confident.
The set includes a push-up brassiere and a matching panty, combining style and functionality. The push-up bra provides excellent support and enhances your natural curves, giving you a flattering silhouette. The thin straps ensure a comfortable fit, allowing you to wear it all day without any discomfort.
Available exclusively in a mesmerizing shade of white, this lingerie set is perfect for bridal wear. It complements the pure and radiant beauty of a bride, adding a touch of elegance and allure to her special day. However, it is not limited to bridal wear alone; it can be worn for any romantic occasion where you want to feel beautiful and seductive.
To cater to different body types and sizes, this lingerie set is available in Small, Medium, Large, and Extra Large. This size range ensures a perfect fit for every woman, allowing you to embrace your curves and accentuate your natural beauty with confidence.
Indulge in the ultimate expression of femininity and sensuality with our Bridal French Lingerie Set. Whether you're a bride-to-be or simply want to add a touch of romance to your wardrobe, this lingerie set is the perfect choice. Shop now at urbanshak and experience the allure and elegance of this exquisite lingerie set.