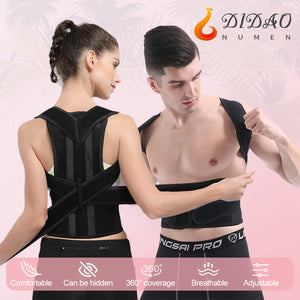 Back Brace Posture Corrector
Sale price Price £29.99 Regular price £59.99 Unit price / per
Tax included.
Shipping
calculated at checkout.
Introducing the New Back Brace Posture Corrector for Women and Men - the ultimate solution for improving your posture and relieving back pain. This innovative product is designed to provide support for your upper back and shoulders, helping to improve posture and alleviate discomfort.
The Back Brace Posture Corrector is made from high-quality materials that are both durable and comfortable. The adjustable straps ensure a perfect fit for both men and women, and the breathable fabric allows for maximum comfort and support. The product is also lightweight and easy to wear, making it ideal for daily use.
The 2023 Back Posture Corrector Shoulder Support Belt is designed to target upper and lower back pain, helping to improve spine and clavicle posture. It features a unique design that supports the spine and helps to correct bad posture. The adjustable straps allow for a customized fit, ensuring maximum support and comfort.
This Posture Vest is perfect for people who spend long hours sitting or standing, such as office workers, students, or drivers. It can help alleviate back pain caused by poor posture, and promote healthy alignment of the spine. The product is also useful for people who have suffered from injuries or surgeries that affect their posture.
In summary, the New Back Brace Posture Corrector for Women and Men is an essential tool for anyone looking to improve their posture and relieve back pain. With its adjustable straps, breathable fabric, and innovative design, this product is comfortable and effective. Whether you're looking to alleviate discomfort or simply want to improve your posture, the Back Brace Posture Corrector is a must-have product.